This year I have been struggling a little bit with growing Tomatoes. In case you didn't know, I grow mine in large containers. The heat that came upon us so quickly really didn't help matters much. I continue on though. I have made some Spaghetti sauce and have had a decent amount of Tomato and Jalapeno sandwiches. Hey, don't knock them, they are great with Miracle Whip and black pepper!!
I water my plants almost everyday, talk to them every time I go by, just hoping that they will produce more tasty treats. Then.....THEY CAME!! The Manduca sexta, better known as the Tobacco Hornworm. Here is the latest Post Office photo: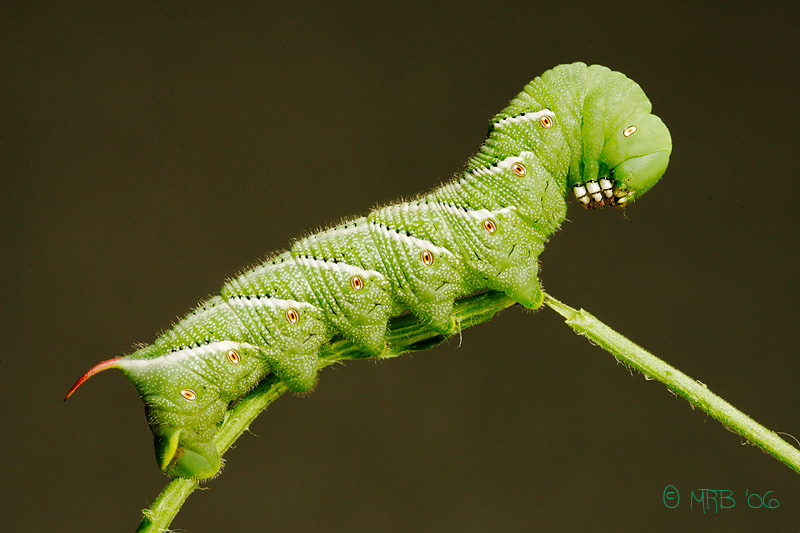 I know what some of you are saying, that looks like a Tomato Hornworm. Those guys are known as Manduca quinquemaculata. They look like this:
The Tobacco Hornworm larva (Manduca sexta) is generally green with seven diagonal white lines on the sides and a curved red horn. The Tomato Hornworms (Manduca quinquemaculata) have eight V-shaped marks on each side and their horn is straighter and blue-black in color. Either way, they are both known as nasty little, Tomato plant eating varmints! They both also eat, Peppers, Eggplants, Potatoes as well as Tobacco.
These "Hornworms" are the larvae of the hawk or sphinx moths, also known as Hummingbird moths.
The Hawk moths (Tomato Hornworm moths)are large, heavy-bodied with narrow front wings. The moth is a mottled gray-brown color with yellow spots on the sides of the abdomen and a wing spread of 4 to 5 inches. The hindwings have alternating light and dark bands. They are usually seen after dusk. The moth doesn't cause any damage.
The Sphinx moth (Tobacco Hornworm moth) are usually much more colorful.
There is conflicting information about the origin of these two "horned" pests. One report has it that ships bringing tobacco plants (and the Tobacco Hornworm) from Nicaragua to Virginia in 1641 introduced the insect. Then there are reports that the Tomato and the Tobacco Hornworm are native to the United States.
Either way, the larvae (hornworm) is the damaging stage and feeds initially on the upper portions of leaves, giving you stripped stems and leaving behind dark green or black droppings. If you see something that looks like this on your Tomato plants, look around, you have a visitor.
The larvae blend in with the plant canopy, and therefore go unnoticed until most of the damage is done. They can bend and curl to look just like a leaf. The poop is usually the best way to locate them, it drops down, so look up from it.
The best advice is to examine plants frequently from early July through the rest of the growing season for hornworm eggs and small caterpillars, and to begin control measures as soon as young larvae are observed.
To control these little beasts, handpicking is recommended. I like to take them off the plant, put them on the concrete or out in the road and watch the birds come get them. You can also cut them in half with your garden shears. If you are a little squeamish or just can't get yourself to pick them off, BT (Bacillus thuringensis) can be used. It is very effective, especially on smaller larvae.
Of course, there is one time that I don't mind seeing a hornworm. I know, "What are you crazy?!" Probably, but that is besides the point. No, I enjoy seeing them when they look like this:
All those white, rice looking things are cocoons. They are from a small braconid wasp, Cotesia congregatus. Larvae that hatch from the wasp eggs that are laid on the hornworm feed on the inside of the hornworm until the wasp is ready to pupate. The cocoons appear as white projections protruding from the hornworms body. If you see a hornworm like this, leave it alone. The wasps will kill the hornworm when they emerge from the cocoons and then will seek out other hornworms to inflict the same fate. Mother Nature can sure be cruel sometimes.
Hopefully, this pest will not be a nuisance to you, in the meantime......I must go feed some birds!
Happy Growing!
Darren