I am always looking for neat and unusual plants to try and grow. If they produce food of any kind even better. I tend to lean towards fruit however, just the sweet tooth talking I guess. I learned about Dragon Fruit from my Cactus studies. They are in the genus Hylocereus.
Believe it or not, you may actually have a Dragon Fruit plant growing in your house right now! If not, you have probably seen one numerous times. Remember seeing something that looks like this?
Photo courtesy of W. Chow ( http://www.vivapitaya.com ) He has a GREAT website to learn more about this unusual fruit.
The green rootstock is Dragon Fruit or Hylocereus undatus. I have actually done this before, you can just cut the top part off.....the yellow, orange or red Cactus. Unfortunately, it will not live on its own. That cactus can not produce chlorophyll, that is why it is grafted onto something that can. Another option is to wait until the rootstock sends out a shoot and root it. This is very simple. Once the shoot is large enough to cut off, dip the cut end into a little root hormone and place in a pot with some potting mix. Keep soil barely damp. It should root in a couple of weeks.
These plants can very easily be grown in pots. Roger Washington down in Florida grows them in containers at his farm. He runs a company called Reddragonfruit.com
Dragon Fruit is native to South and Central America, it is commercially grown successfully in both Thailand and Vietnam. Southern California and parts of Florida are very good for growing Dragons. So, looking at these places, you can tell that they are not looking to live in the Sahara Desert. If you don't live in a tropical environment, they can be grown in a greenhouse.
They enjoy temperatures between 31 degrees and 100 degrees, either side of these extremes will hurt the plant. They can grow on a wide range of soil types, as long as it has good drainage. Although Dragons are members of the cactus family and may withstand dry periods, they have a fairly high water requirement. The plants should be planted in full or almost full sun (very light shade) for best growth and fruit production. An application of a 6-6-6 type fertilizer every two months is recommended.
As for many fruiting plants, the very young plants will not liberally flower or fruit at all until they have gotten much older and larger. These things need to put on quite a bit of weight, average of ten pounds worth of vines usually before they even think about flowering and fruiting. This can actually be attained in just a couple of years, depending on the size of the cutting used.
Lets say you have gotten yours to pretty good size, yet you see no flowers. It might be time to go on a midnight raid. Dragon Fruit plants bloom only at night, and unless you have a lot of bats or moths that pollinate Dragons, you are going to have to do it. I know, why not wait until morning? The flower will be gone by then, the first inkling of daybreak and the flower fades. The good news is that the plant tends to flower a couple of times a year. Even so called self pollinating Dragons will fail to produce fruit without the help of Bats, Moths or you. If you can, you need to plant a couple of them to help with cross pollination.
How is this for a beautiful flower?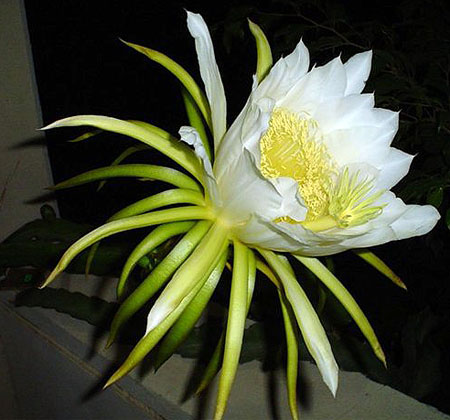 It is worth growing just for the scent and beauty.
If you can get it to produce and are good at pollinating, it is not unreasonable for 3 to 4 year old plants to produce about 220 lbs of fruit per year. The average life expectancy is around 20 years.
To support your Dragon, I found this useful information from the University of Florida. Dragon Fruit plants may become quite large and spreading, and therefore individual plants should be planted 15 to 25 ft or more away from trees, structures, and electrical lines. A strong trellis should be established that may withstand several hundred pounds of stem weight. A weak trellis may buckle under the weight of a mature plant. Do not use wires on the trellis because they may cut or damage the stems. If wire is used, it should be covered by hoses. For the home landscape, consider a trellis for individual plants which should consists of a post and a structure at the top of the post to support the plant. An arbor type trellis may also be constructed. Individual plants growing on a short tree or on a pile of rocks or blocks could also be used as supports for a few plants.
I created the post with a structure on top to support mine. I am hoping for some rapid growth this year.
In case you were wondering what the fruit looked like, here it is:
There are actually a few different varieties.
Red, with white pulp like above.
Red, with red pulp:
And a Yellow, with white pulp:
To top all this off, eating Dragon fruit is good for you. It is high in Vitamin C and dietary fiber. There are also reports that it aids in type 2 diabetes glucose level control.
I hope this encourages you to go out and try to find a Dragon Fruit plant. Maybe then you can make your OWN movie of how you Trained your dragon.
Happy Growing!
Darren
UPDATE: This has actually been one of my most popular posts! I have received many, many questions and comments regarding this one.
I have also received pictures of success that folks have had, such as this one from Irene W.
She lives in California. This is a nice harvest! Great job Irene!!